Dukjin Chang is a professor of Sociology at Seoul National University since 2002.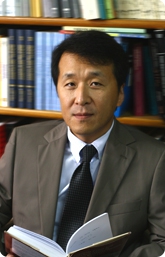 Dukjin Chang is the current chair of the Department of Sociology.
He has graduated from Chicago University in 1999 and taught at Ewha Woman's University from 1999 to 2002. He joined Seoul National University in September, 2002 and was a visiting professor at Harvard University from 2006 to 2007 for 1 year.
His research areas are Economic/Organizational Sociology; Political Sociology; Social Network Analysis; Quantitative Methodology; Online Social Network.
Publications
* Papers
Yee, Jaeyeol, and Dukjin Chang. (2011).

"Social quality as a measure for social progress."

Development and Society,

Vol. 40, No. 2, pp. 153-172

Chang, D., Ghim, G. (2011). "The structure and dynamics of the Korean Twitter network" Journal of Communication Research

,

48

(1), 59-86.

(in Korean)

Yee, Jaeyeol, and Dukjin Chang. (2009).

"Transparency, a key factor to improve social cohesion: A review of the Korean experience in the context of social quality research.".

Development and Society.

Vol. 38, No. 2). pp. 259-275

Dukjin Chang, and Young Bae.

(2012)

The Birth of Social Election in South Korea: 2010-2012

. Friedrich-Ebert-Stiftung.

Chang, D. (1999). Privately owned social structures: Institutionalization-network contingency in the Korean Chaebol

(Doctoral dissertation, University of Chicago, Dept. of Sociology).
* Books
Woo Chang Kim, Bok Song, Hokeun Song, Dukjin Chang.(2017). <Whither the Korean Society?>. Asia. . (in Korean)
Dukjin Chang et al. ISDPR. (2015). <Archaeology of Compressed Development -The Changes of Korean Society through the lens of Social Survey, 1960 to 2015>. HanWool. (in Korean)
Dukjin Chang et al. ISDPR. (2015). <Questions from the Sewol Ferry :The Sociology of Disaster and Publicness>. HanWool. (in Korean)
E-mail address: dukjin@snu.ac.kr